Last week, Coach Brian Kelly named Tommy Rees the starting quarterback for the season with Everett Golson not eligible this year. Of course the fans will have different opinions on that. Rees has had his haters and doubters. There are those who think he should start over Golson and those who think that either Andrew Hendrix or Malik Zaire should start over him.
Me personally, I would rather have Golson but I have the utmost confidence in Rees. In spite of his limitations and tendency to turn it over, the team wins with him and the players believe in him. With all that I know there is one guy who will be the biggest Rees fan there is and will want him to have a great year.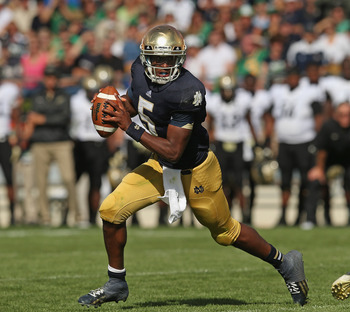 That guy is Everett Golson. Golson will want to see Rees surpass everybody's expectations. The reason is simple. He still wants his team to win but the larger issue for him is that Rees is no threat to him. Rees is a lame duck. He has no eligibility left after this year. However, Hendrix still has one year and Zaire is just a freshman. Therefore, if Rees plays well and the team wins we don't see the other two in any meaningful action.
However if Rees falters and one of the other guys step in and have a great year, then Golson can find himself having to fight to regain his starting spot. This is especially true if it is Zaire that has the great year. I am sure Kelly doesn't want to waste any eligibility on him at all this year if he doesn't have to. The word is that Hendrix will transfer to an FCS or a mid major after he gets his degree with a year of eligibility left. But we all know that those plans can quickly change.
Based on that, if you are Golson you are the biggest Rees fan. As far as you are concerned, the less we know of the other two, the better.