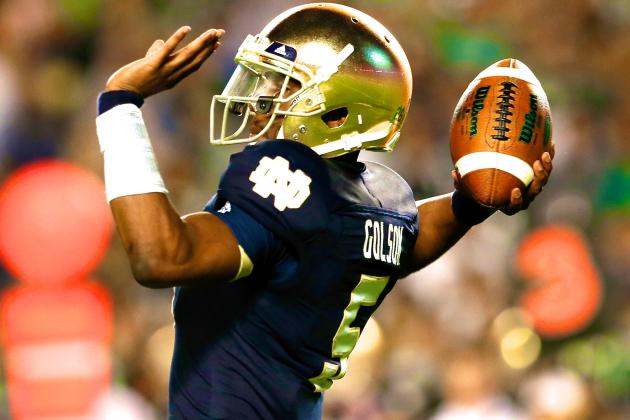 One of the most interesting stories for the offseason not only for Notre Dame but all of college football will be the decision of Everett Golson. After the Music City Bowl, he stated that his immediate plans are to return to Notre Dame for the spring semester in which he will graduate in May. After that he is unsure. He basically has three options. He can remain at Notre Dame, transfer, or enter the NFL Draft. It will not be an easy choice for him as each one has risk and reward. Let's look at those choices.
Option #1-Stay at Notre Dame
As a Notre Dame fan, I hope he picks this one. After watching that Music City Bowl, it appears to many that Coach Brian Kelly has decided to give the ball to Malik Zaire as the regular quarterback. However, Kelly can never be predicted and I am not sure that it is as set in stone as it would appear. Zaire did get most of the snaps in the Music City Bowl, but I am not sure that would have been the case if Golson hadn't taken that vicious hit in the second quarter. He had to take a halftime shot for that.
Also, Zaire had less than 100 yards throwing and most of his passes were short and safe. It was Golson who hit most of the deep passes and especially on that critical last drive. So I am not convinced at all that Kelly has it set in his mind that Zaire is the main guy going forward.
I do think that Kelly wants to use more of a two quarterback system with the two. While the old adage is that if you have two you have none, there are exceptions and this is one of them. Golson is the veteran but only has a year left. Zaire has a lot of skill but is still raw. Each is different. When Golson is in, it seems like he is trying to do everything himself where as when Zaire is in, it appears like you have 11 guys working together.
Golson does need to learn that being a leader doesn't mean doing everything himself. Kelly said that two years ago he was riding the bus but driving it this year. Well, he looked like a good driver at times, other times he looked afraid to get behind the wheel, and other times he looked like he was driving drunk. Consistency is an issue but that gets back to using your teammates.
Maybe with a two quarterback system he will be more relaxed.
Option #2-NFL Draft
I still haven't heard his draft grade, but I only advise quarterbacks to come out early if they are a likely first day pick. With Marcus Mariota and Jameis Winston out there, I am not seeing it. I really think the turnovers would rub the NFL teams the wrong way. They want to see him clean that up first.
Option #3-Transfer
Earlier I said as a Notre Dame fan, I hope he stays. But if I were advising him, I am not sure if that is in his best interests. I have no doubt that the two quarterback system can work. I am not questioning that at all. What I am questioning is whether Golson should want anything to do with it. Transferring in his last season did wonders for Russell Wilson. NFL teams will scratch their heads though on a guy who split time his senior year. So being that he is graduating and will not have to sit, it might be smart to look at this.
He will have to learn a new system quick so it might be advisable to pick a school that he has some familiar faces. One school that immediately stands out is Miami of Ohio. He is familiar with Chuck Martin. Although the team was not good, Andrew Hendirx had a good year throwing for them. There is no reason to believe that Golson can't do really well there. Another choice that makes since is Connecticut. He knows Bob Diaco and I am sure the OC is someone he is familiar with. Another choice might be Northwestern as Tommy Rees who was a good mentor to Golson is there now.
Those are his options and it will be interesting to see what he decides.