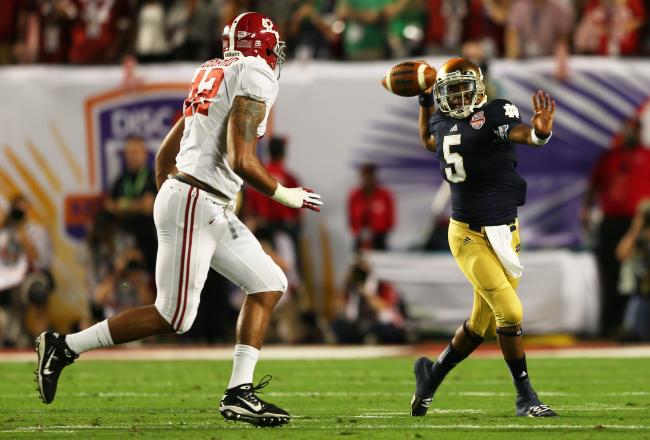 After 2012 was the best year for Notre Dame since 1988, it ended with a chain of events that put a damper on it. It started with the National Championship butt kicking they received from Alabama. Then came the scare of Coach Kelly flirting with the NFL and the Philadelphia Eagles. That fear was quickly replaced with the whole Manti Te'o girlfriend hoax. That made Notre Dame very nervous about the NCAA Nazi's placing sanctions on the school for something they weren't involved in. With Mr. Tuiasosopo admitting that he set the whole thing up, it appears that while Te'o will have to continually answer questions about it, but Notre Dame appears to be done with it.
With all that going on, Notre Dame very quietly has put together it's best recruiting class in years. Five star linebacker Jaylon Smith might be able to be the replacement for Te'o. Another huge five star recruit is running back Greg Bryant who can compete with George Atkinson and Cam McDaniel to fill the huge holes left by Theo Riddick and Cierre wood.
The offensive line will leave holes to fill as well with the graduations of Zack Martin, Mike Golic, and Braxton Cave. The Irish do have a host of four and five star recruits along the line featuring guys like Hunter Bivin from Kentucky.
Don't blink but spring practice is right around the corner and he Blue-Gold game is on April 20. The Irish need to focus on not only filling those holes among others but also taking Everett Golson to the next level in his development. The progress he made from the the start of last season to the USC game was incredible. Now the next step is for him to be able to run the offense at the fast pace Coach Kelly likes.
This is a big year for Notre Dame not only because the expectations are once again where they need to be in South Bend, but also because this is the last year that Notre Dame will play Michigan and Big Ten rivals (Michigan State and Purdue) will likely be gone too. That is of course due to the agreement Notre Dame has with the ACC to play five teams annually. Ironically, this year the Irish will only play Pittsburgh who is also a new face in the conference. Therefore winning these games not only matters for rankings but also for lifelong bragging rights in the end of these great rivalries.
Notre Dame also plays traditional rival USC which appears to be a down program. They have traditional service academy opponents Navy and Air Force. They have a rematch in South Bend with Oklahoma. They also have non traditional opponents in Temple and Arizona State. Senior day will be against BYU. While those are mostly formidable opponents, those should all be wins with an experienced Golson and still a dominant defense even without Te'o and Kapron Lewis-Moore.
That will all lead to a showdown in Palo Alto with Stanford led by Kevin Hogan in a game that will likely have national championship implications for both teams.