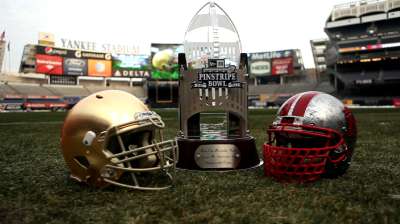 Yes the score was only 29-16, but that does not accurately give a picture of how dominant Notre Dame was. Mistakes really allowed Rutgers to stay in the game for longer than they needed to be. An early muffed punt return by TJ Jones led to a field goal. Then dropped touchdowns by William Fuller, DaVaris Daniels, and Jones kept points off the board.
But the running game took over in the second half thanks to a dominant line anchored by game MVP Zach Martin. Cam McDaniel led the way with 81 yards while Tarean Folston added 74 yards and a touchdown. Going forward, these two need to be the featured runners next season.
It was a nice game for Tommy Rees to go out on. He threw for 318 yards and more importantly no turnovers.
Defensively it wasn't really anything spectacular just another day at the office. They held the Scarlet Knights to just 16 points and only 3 after halftime. The Irish forced 4 turnovers. The most important stat was that they were able to get off the field. Notre Dame dominated in Time of Possession. The Irish had the ball for 35 minutes to 20 by the Scarlet Knights.
The game wasn't really all that exciting to watch but it is always nice to end with a win. I cannot wait until next season. The offense will be deadly with the return of Everett Golson and all the returning weapons he has. We just need to keep Coach Kelly away from the Detroit Lions.