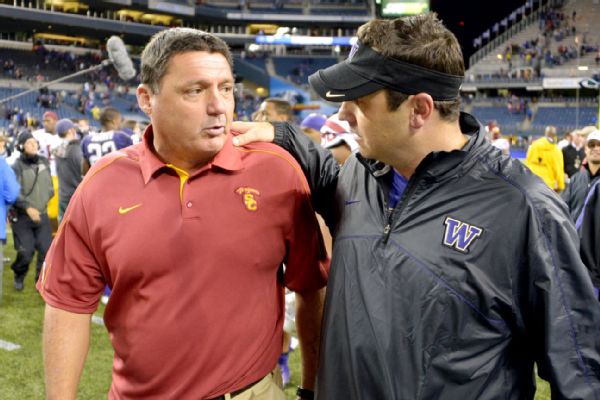 When Ed Orgeron took over the USC program, he knew it was on an interim basis. But after he actually had success, he wanted to have the job permanently. He was 6-2 as coach and the team was very impressive in those wins. But his two losses were two Notre Dame and UCLA, the Trojans big rivals. Losing those games is unacceptable to USC.
So I can certainly understand why Pat Haden would have reservations about making Orgeron the permanent coach. We have seen this before where a new coach takes over who is a polar opposite of the guy who was fired and not well liked by the players. The team goes on an emotional run but that emotion runs out. The name Larry Coker stands out and to a smaller degree Charlie Weis. We will never know if that would have been the case with Orgeron or not.
My take on it was they might as well just give him a year and see what he does. He earned and there still is sanctions for a couple more years. That was unless there was a big name coach out there that wanted the job like Jack Del Rio.
That is why this hire of Steve Sarkesian just makes me laugh. I know he had success as an offensive coordinator in their recent glory days under Pete Carroll. But as a head coach at Washington, he did an OKAY job. He did decent but nothing to really get excited about. His record in five years 34-29 and he was 1-2 in bowl games. The program is in better shape now than when he got there but it is still nowhere near Oregon, Stanford, or even UCLA.
In fact, there was even some rumor about whether or not Sarkesian would be fired had they not beaten in state rival Washington State.
Another thing that is funny about this is that he actually mentored the guy Haden fired in the first place. That alone should say something.
The USC players seemed to really like Orgeron and played really hard for him. So if you are going to replace a coach like that, you better had a guy whose name already demands respect. But I am sorry but Sarkesian is not that guy.
I don't blame Orgeron one bit for resigning. He could have been a really high paid assistant, but it was not about the money. I am sure he wants to get back at Haden and USC. So if I were him I would apply for the Washington job and really stick it to them if Washington wants him.