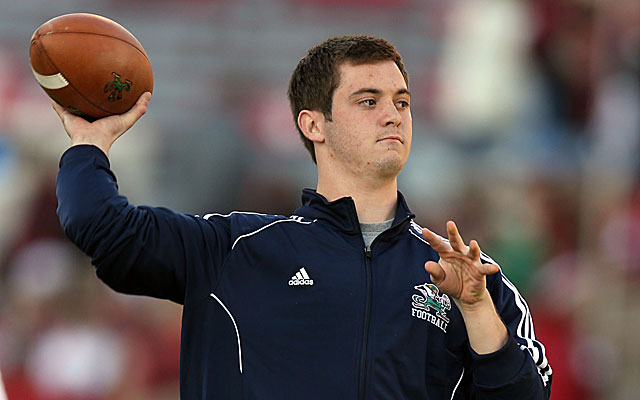 With Chuck Martin moving on to be the head coach at Miami (Ohio), Notre Dame now has to fill that position. We all know that Brian Kelly is not going to allow an offensive coordinator come in and run his own system. Kelly wants the quick spread. Therefore, The Irish need someone who knows Kelly's system well. After being in the system for four years, I think it is safe to say that Tommy Rees knows that system and the playbook inside and out.
I know suggesting something as radical as this will create a lot of debate and doubters. Some will say he may be a good coach but he is too young for a job like this. That is ridiculous though because either you know football or you don't age has nothing to do with it.
Then there will be those who are so hell bent on hating Rees, they will totally scoff at the idea. But that is also ridiculous because playing ability has nothing to do with knowledge. Not only does Rees know Kelly's system inside and out, but he also is a coaches son meaning he was raised around this game.
The fact is that during his four years, Rees has shown signs that he could do a great job of coaching. He was a great mentor to Everett Golson during the magical season of 2012. Golson said he was blown away at how much football knowledge Rees has.
Rees showed that this year as the starter too. How many times did he see what the defense was doing before they did it and audibled out. He had a lot of success with that. His knowledge in many ways made up for any physical limitations.
Not only is Rees smart, but he also has the respect of every player in that locker room. They followed him as a player and trusted him as their quarterback.
So to those of you who think he may be too young or just are too anti-Rees to be on board with this, I ask you these questions. Who is out there that knows this offense better than Rees? Who is out there that has more respect from the team than Rees?