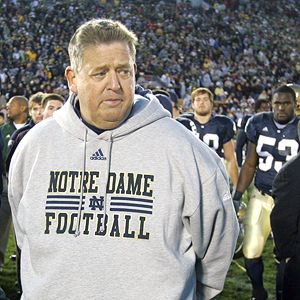 As Notre Dame fans celebrate their season and the birth in the BCS title game, it is always good to look back at where the program was so they can appreciate where it is now.The program still hadn't found any consistency since Lou Holtz retired in 1996. Bob Davie was only 35-25 in five seasons with only three bowl appearances. His only BCS appearance was the 2001 Fiesta Bowl where the Irish got blown out 41-9 by Oregon State.
Then Tyrone Willingham took over in 2002 and the team started 8-0. Then losses to Boston College and USC turn the season around. The next two seasons were filled with mediocrity with records of 4-7 and 6-5.
Then Charlie Weis took over the program in 2005. Irish fans were excited to get a coach who came from a multiple Super Bowl background with the New England Patriots. He inherited star players such as Brady Quinn and Jeff Samardjiza. He took those teams to back to back BCS Bowls. He led them to the Fiesta Bowl in 2005 against Ohio State and the Sugar Bowl against LSU in 2006. Unfortunately, the Irish got beaten badly in both of those games. Still Irish fans were optimistic about the future of the program.
Year three for Weis was a challenge as Quinn, Samardjiza and company were all gone. We all knew Weis could coach, now it was time to see if he could recruit. It was a rough year for Notre Dame as they finished 3-9. In spite of the record, fans were a little forgiving of Weis given his resume and they did like the progress of freshman Jimmy Clausen and Golden Tate.
In the off season, Weis recruited Michael Floyd to add to the mix. Tate and Floyd became a dynamic duo and nice weapons for Clausen. Another good weapon was Kyle Rudolph. That year the team started 5-2 and it appeared that they were on their way back before having an embarrassing loss to Syracuse and then getting destroyed by USC.
Questions about Weis's ability to recruit, especially on the defensive side, were really beginning to surface. Still Notre Dame did go to the Hawaii Bowl that year. Now that may not seem like a big deal but there was a player in Hawaii from Punahou who was being courted by Weis. That young man was on the sidelines when Notre Dame demolished Hawaii 49-21. I think we all know who that is.
Along with Manti Te'o came guys such as Theo Riddick, Cierre Wood, Zeke Motta, Mike Golic, Kapron Lewis-Moore, Carlo Calabrese, Braxston Cave, Dan Fox, Robby Toma, John Goodman among others. We all know the players they became. Another player worth mentioning that year is Shaquille Evans who did transfer but became a star at UCLA.
Unfortunately, for Weis this freshman class was unable to save his job from another 6-6 season. That year Clausen put up great numbers to Tate, Floyd, and Rudolph. Unfortunately, the defense was very weak that year and could not stop anybody. Te'o who was a freshman seemed like the only reason for any hope for that defense.
We all know that Weis's stay in South Bend was a disappointment considering how it started. His reputation was that he could coach someone else's players but couldn't recruit his own. While that may be true for the most part and Brian Kelly did have a lot to do with the development of these players, Irish fans do have to give Weis credit for this recruiting class. He got it right that year. I thank him for that.