Notre Dame like all storied programs has many traditions. They touch the "Play Like a Champion Today"
sign on the way through the tunnel. They sing the alma mater after the game. They play many traditional rivals like USC, Navy, Stanford, Michigan, Michigan State, etc. Some of those may fall by the wayside with the
new agreement with the ACC. One thing that will remain is it's proudest tradition of all. That is Senior day.
It is a day where fans are both excited for the players future but also sad to see them leave. They are both thankful for their contributions but will miss them. This year is no exception and it is a great class. I do have to thank Charlie Weis for this great class. Although Weis didn't work out, he does deserve some credit for this class.
Theo Riddick
This guy has been probably the most versatile of all the seniors. Riddick has played both back and receiver and has played both well. I am not sure if he will make it in the NFL as a featured back, but I can see him third down packages.
Cierre Wood
Wood's senior year started on a negative note with a two game suspension. That has forced him to share the load with Riddick. His stats may not be as good as they were his junior year, but I will never forget that run at Oklahoma. I hope to see him on Sundays.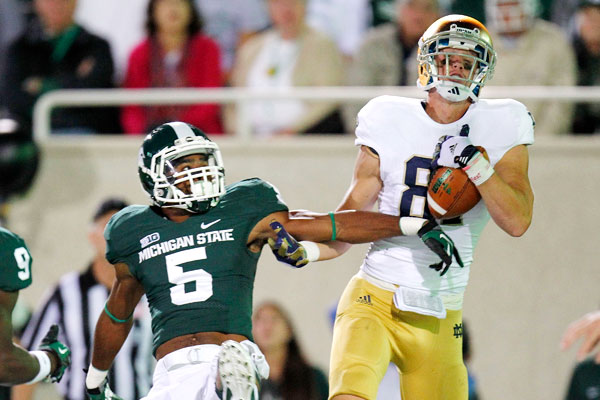 John Goodman
While this guy has not caught many passes his senior year, the ones he has caught have been huge. Just ask Purdue and Michigan State. I wish him well in his future endeavors.
Robby Toma
If anybody knows what it is like to live in someone's shadow, it is this guy. For all of his career he has lived in the shadow of being the guy that came with Manti Te'o. He was also in the shadow of Michael Floyd for most of his career. Living in the shadow of two all time greats has to be tough. Still Toma has gone about his business and been a valuable contributor. Good luck to him.
Tyler Eifert
Here is perhaps the best tight end in the nation. That is not only for his pass catching but also his blocking. NFL scouts love this guy. We will see him on Sundays.
Mike Golic, Jr.
Having escaped his dad's shadow, Golic has been very consistent on the line this season. I hope to see him in the NFL.
Braxton Cave
Cave has also been a very consistent member on the line. I am not sure if the NFL is in his future but he will be missed in South Bend.
Kapron Lewis-Moore
All I can say about this guy is that he has been an absolute beast on the defensive line. He will leave a big hole next year and we will miss him. I can see him playing on Sundays.
Zeke Motta
Not only a solid safety, but Motta has also been a great leader in the secondary. He was the only senior in an otherwise very young defensive backfield. I really hate to see him go.
Manti Te'o
Saving the best for last, where do we start? All-American? Heisman candidate? Great linebacker? How about the heart and soul of not only the defense, but the whole team. This guy has overcome personal tragedy to have the great year he has had. When he leaves the Irish will be replacing more than just a football player. He will go very high in the draft.
Thank you and Good Luck to all the seniors. You will all be missed.