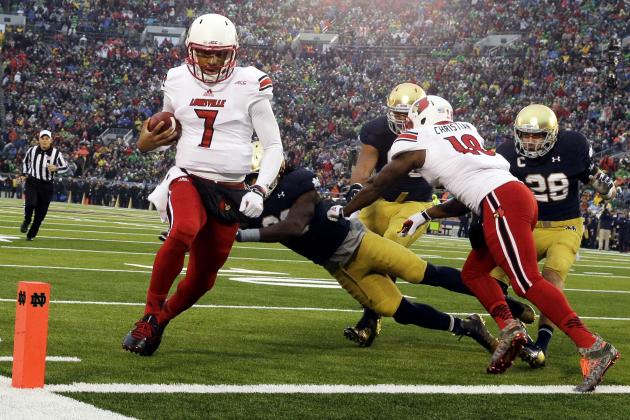 With a freshman Reggie Bonafon starting at quarterback, Notre Dame was totally focused on stopping the running game of Louisville. That makes the fact that the Cardinals were able to pretty much run at will hurt even more. The team gained over 200 yards rushing against the Irish defense. Brandon Radcliff gained 136 yards with a touchdown. Former Auburn runner Mike Dyer also pitched in 61 yards. Bonafon also gained 35 yards and 2 touchdowns.
To be fair, the Irish defense has been depleted with injuries. Losing Joe Schmidt seemed to have hurt the worse. Sheldon Day is also a huge loss. Against Louisville, Cody Riggs and Jaron Jones also were added to the list of injuries. Notre Dame at times had 9 freshman out there playing.
Having said all that, this unit has given up 30+ points in 6 straight games. Over that stretch, they have given up 242 points. That is awful. This unit started the year so strong too. Against Michigan and Stanford, fans believed that this defense was among the best in the nation. But now, I am not sure there is an offense in the country that this defense can stop.
Say what you want about Everett Golson and all his turnovers. The offensive line has also been a problem. Heck, Notre Dame cannot even get a guy to hold kicks. But even with all those factors, Notre Dame's lowest offensive output over that same 6 game stretch was 27 points. That was against Florida State in that controversial game. Their average scoring over that stretch is 37.5. If I were a head coach and had an offense that scored that many points, I would expect to win. I certainly would think that 40 would be enough to blow Northwestern out.
I do understand how young this defense is and all the injuries. But c'mon, these guys are good enough to get a scholarship at Notre Dame. I expect that they should be able to give up less than 37 points. These woes are due to more than just injury and youth. Brian VanGorder must go. He is a reincarnation of John Tenuta. Sure the blitzing is exciting and has potential to make a big play for a loss or force a turnover, but it also has potential to give up big plays because you leave something open.
Another problem is that it does not teach good fundamental defense. Whenever a player runs through with reckless abandon, he can run right through and miss the tackle. Coach Diaco had nothing fancy, he just emphasized good tackling. His defenses did give up yards but because they tackled well, they could keep them out of the endzone.
You also have to wonder if this style of reckless play might be a contributing factor to all the injuries. What really irritates me about this style of nonstop blitzing is that it defeats the purpose of what a blitz is. It is supposed to be an element of surprise to catch an offense off guard. But when you blitz this frequently, they are ready for it. It is basically the same thing as an offense running a trick play every 2 or 3 plays.
I am not ready to part ways with Coach Kelly yet, but please as soon as the gun sounds against USC buy Mr. VanGorder a one way ticket to wherever he wants to go.