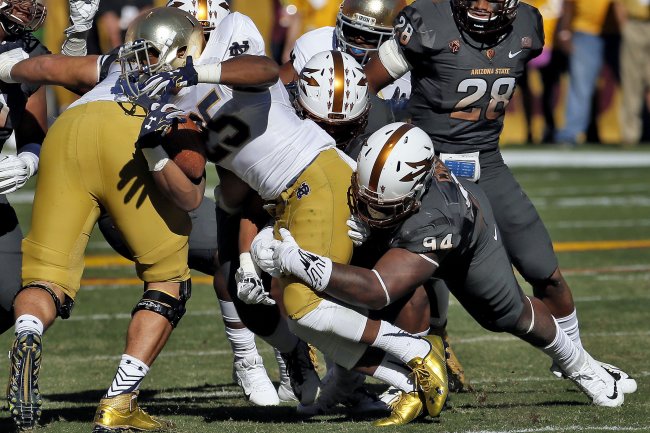 Going into this game with Arizona State, I had a bad feeling and I am not at all surprised by the result. That was for two main reasons.
The first one is the Navy factor. Mack Brown mentioned it in the pre-game that a team like Navy takes a lot out of a team because of the different style and the cut blocking they do. I don't want to buy into a theory like this but the history speaks for itself. They lost to Tulsa the one year after Navy. Even two years ago during the great 12-0 season the Irish struggled against Purdue, which isn't unusual either. Last year they lost to a bad Pittsburgh team. The Irish are not the only team affected by this. Of the teams that have faced Navy this season, only one team has won the following week. One of the teams who played Navy was Ohio State and they lost to Virginia Tech, who isn't good, the next week. We know what Ohio State has done since then. So there is something to this and I hope Notre Dame is smarter in how they handle Navy in the future. Maybe put them the last game after USC/Stanford, or just schedule a bye the next week.
The next reason is that although they were 7-1, I got the sense that this was a young and inexperienced team who really overachieved. That showed big time. Everybody wants to blame Everett Golson, but that is not fair at all. He really played a heck of a game and threw for over 400 yards. I am not saying that 17 turnovers in 6 games isn't a concern, but none of the five that happened against Arizona State were on him. I honestly felt sorry for him. The offensive line has a lot of underclassmen other than Nick Martin. They have shuffled around all season. Their inexperience showed as they were unable to pick up blitzes all first half. The Sun Devils were coming in untouched. That is what led to 4 of the turnovers. The first was a fumble in which the defensive back got Golson from the blindside and nobody picked him up.
The next two interceptions were both tipped at the line due to the pass rush they were unable to pick up. The next interception was in the end zone early in the second half when he was hit as he threw. The last one was on Corey Robinson. So it was bad play by the line and a young receiver that led to the turnovers, not Golson.
The other area that showed inexperience was the young defense. They were placed in bad positions a lot in the first half and given short fields. But a veteran defense, would still go out there and shut it down holding them to a field goal. They still cannot give up touchdowns. They play really good for most of the second half which enabled the offense to come back. But after the Amir Carlisle score that pulled the to within 3, they let Taylor Kelly lead his team right down the field and score. Again, a great defense would not allow that. Part of that is finding their leader. They still haven't replaced Manti Te'o in that regard.
So Notre Dame really needs to be honest with itself. First, they need to either take Navy off the schedule or be smarter about where they place them. Being honest, they haven't been smart about it. Second, the Irish need to acknowledge that this is a young team that really is a year away from being a team that can contend for a 4 team playoff. That being said, there is still a lot to play for this year. They win out and go 10-2, Notre Dame will still go to a big name bowl game like the Orange, Fiesta, or Cotton.
That won't be easy though. Northwestern is next and although they haven't looked good this year, they did beat Wisconsin. So they do have ability. Louisville is a solid team who was able to build a 21 point lead against Florida State. And of course, the USC game is always the game of the year for both teams. Beating those teams and winning a bowl game would be a great building block for next season.
In closing, I just want to congratulate Arizona State. They came ready to play and showed they are as good as anybody in the country.