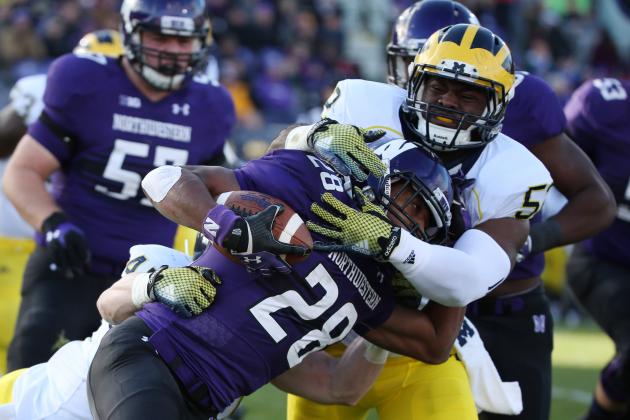 After coming off the worst game of the season, it is a big week for Notre Dame to get back on track to position themselves for the best bowl game they can get. How a team responds is really a reflection of the coaching. We shall see.
This week is the renewal of an old rivalry. It is strange to play a Big Ten team this late in the year. This used to be a regular season opener for the Irish and often was a tune up for Michigan. They haven't met since 1995 but have met 47 times with Notre Dame dominating by winning 37 of them. Although Northwestern did win the last one.
This 2014 version is possibly the most inconsistent team in the country. They began the year with disappointing losses to California and Northern Illinois. Then they went on a three game winning streak. The highlight of that streak was a 20-14 win over Wisconsin. That was big because the Badgers could possibly be the Big Ten West division champs. But now, the Wildcats are on a 4 game losing streak. Two of those include blowout losses to Nebraska and Iowa.
Their latest defeat was to Michigan. I watched the replay of that game on BTN in 60. Let me tell you, the game was just awful. Both teams looked bad. The Wildcats lost 10-9. They scored a last second touchdown, but instead of kicking the PAT and taking it to overtime they decided to go for two. They failed. Michigan was the only common opponent for the two teams and we all remember what happened when the Wolverines came to South Bend.
Northwestern has a pretty good defense in only giving up an average of 22.3 points a game. But the better offenses they have faced in California, Nebraska, and Iowa have scored 30+. Notre Dame is probably the best offense they have seen yet.
Offensively, Northwestern has very limited capability. Their Senior Quarterback Trevor Siemian has only 1837 passing yards with a dismal 5 touchdowns and 8 interceptions. Whenever a quarterback has more interceptions than touchdowns, that is cause for concern. Compare that to Everett Golson's 2757 yards and 24 touchdowns.
Siemian's best receiver is Kyle Prater who has just 37 catches for 372 yards and only a single touchdown. Compare that to Will Fuller's 52 catches for 694 yards and 10 touchdowns. Even the complimentary receivers in Corey Robinson and CJ Prosise have more yards and touchdowns
Their only real weapon is freshman running back Justin Jackson who has 761 yards and 5 touchdowns. So it seems that if the Irish defense stops him, they got it. They have been really good against the run all year except for Navy, but that is a different animal.
Based on all that and combined with the fact that Notre Dame will finally have a home game after being away for more than a month, the Irish should just dominate. The only concern is the idea of a hangover after such a bad loss.