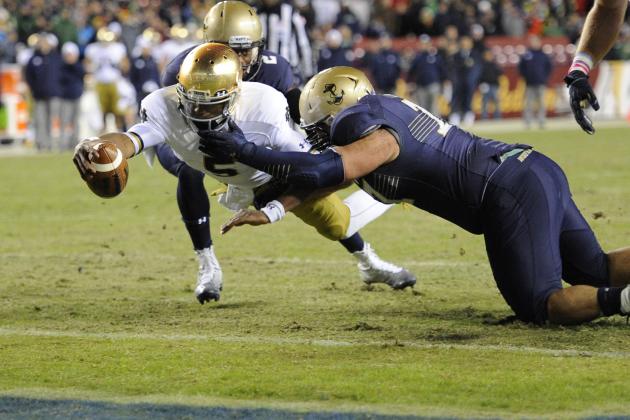 We all know the history of Notre Dame and Navy. We know how World War II put Notre Dame in a huge financial strain. One that the school would not have survived if not for the actions of the Naval Academy. We hear that story every year when Notre Dame and Navy play each other. This has traditionally been one of my personal favorite games.
That is until recently. Lately, it seems that every year when the Irish and Midshipmen play each other, Notre Dame suffers more injuries than it needs and has suffered embarrassing losses the following week to teams like Tulsa and Pittsburgh. Even in the 12-0 year, the team barely beat a physically inferior Purdue team the week after Navy. This year, that game hit Notre Dame harder than ever. That was when the injury problems really started. The worst loss that game was Joe Schmidt.
After the Navy game, Notre Dame was 7-1 and very much alive in the discussion for the playoff. But the injury problems on defense continued and 4 straight losses followed.
Looking ahead to next season, I cringe at the idea of this game being right before USC. I also notice that Georgia Tech is on the schedule just a couple games earlier. They have Navy's old coach so it is almost like a double whammy sort of speak. The potential fallout could be devastating once again.
That has led many Notre Dame fans to wonder if keeping this game is in the school's best interests. There are those who say Notre Dame gains nothing by playing this game. A win over Navy will not boost their ranking. It is a no win especially with all the injuries that occur.
There are also those who say that the Irish owe to Navy to keep them on the schedule. My response to that is this. Suppose you own a home in Hawaii but you are going through financial difficulty and are in risk of losing it. A rich man decides to help you out and you save your home. In return you allow him to stay there anytime he wants to go to Hawaii. It goes on for years and all is well. You both pass away, but your kid honors the deal with his kid. His kid is a bit of a slob and throws crazy parties. He leaves the place trashed. There is no way you would continue to honor that agreement.
World War II ended in 1945 and it is now 2014. That is 69 years. Whatever debt Notre Dame owed to Navy is paid for and then some. Notre Dame is basically doing the Naval Academy a favor at this point. The fact is that every year we see that Navy players diving right toward the knees. I saw the same thing the other night when Georgia Tech played Florida State. Anybody who has coached football at any level knows that that is "Bush League." If Notre Dame would have done that to Alabama two years ago, it would have been all over ESPN. But Navy gets away with it because they are the ones who risk their lives every day/ Criticizing a service academy kind of looks bad, so they will not call a spade a spade.
Notre Dame cannot just ignore this. They can start by sending a letter to Navy and tell them clearly that this game will be removed from the schedule if that cut-blocking stuff doesn't stop.
If they still want to honor the World War II memories, the schools can make a new arrangement and play in basketball.
Another option would be to make a new agreement with the service academies that Notre Dame will only play one each year. That game will be either at home or the Shamrock Series. Also, make it on Championship Saturday so Notre Dame is playing that day even though it is not in a conference championship. Air Force would have to keep that weekend open though because they might have to play in the Mountain West Championship. So on their year, Notre Dame would have to play them earlier. The advantage to this is that the team would not have a game for a few weeks which should be enough time to heal.
If not that weekend, maybe they could open the season with the service academy game and have a bye immediately following. That would be early enough to where the team can heal without having too much of a negative impact. Also, having an early bye would enable Notre Dame to schedule a game that Championship Saturday possibly with BYU.
The Navy game is not a game I want to see go away, but at some point Notre Dame has to be practical.