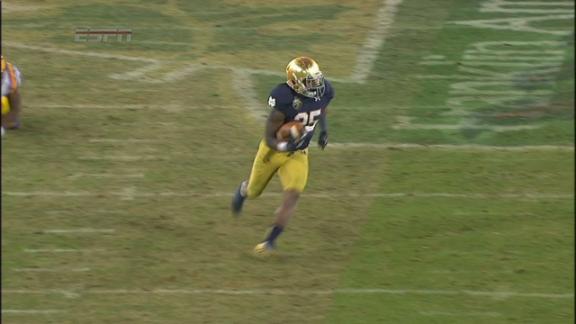 I am not sure where to start on this one. I have never been more happy to be wrong. Going into this, I really was not excited to watch. I thought that it was a mistake to accept this match up. I thought that it would be ugly and look bad for Notre Dame. Well as it turns out, this just might be the biggest win in Coach Kelly's tenure.
One of my biggest concerns was the defense. With the injuries and Brian VanGorder's tendency to non-stop blitz, I thought the Tigers would run all over them. It was a good surprise to see that the Irish got back to a simple front with good tackling and not allowing the big play. Only twice did they allow a big play. Both were touchdowns, but for them to only give up three scores to an SEC team is pretty impressive. I was very impressed with the fact that the defense gave up nothing in the 4th quarter. Bend but don't break defense may not be as fun or as exciting, but it is better fundamental defense. I hope VanGorder learned something.
Now getting to the story of the game. Kelly made a bold and risky decision to start Malik Zaire over Everett Golson. Make no mistake about it, Zaire looked really good. He threw a touchdown on his first drive and also ran another one in. He showed his mobility by adding 96 yards running. The ESPN commentators made sound as if the team is moving on from Golson.
But I am not so sure about that and here is why. Zaire only had 96 passing yards and most of his throws were very safe. The play calling in the second half was very conservative. When the team needed to throw downfield, Golson was brought in. With the game one the line and the team needing a long drive to get the field goal, it was Golson who was brought in to complete those big passes. In very limited duty Golson did a very nice job and had 90 big yards passing. It was clear that in spite of all the turnovers, Kelly still had more confidence in Golson with the game on the line.
Even in his post game interview, Kelly said that Zaire did a nice job of what they asked him to do. That means that who will be the quarterback next season is not as clear cut as ESPN was making it sound. It will be an interesting spring and this year's Blue-Gold game might be the biggest one ever.
One thing I really liked about Zaire is that he didn't try to do everything himself. He realized he has 10 other guys out there. The line played better with him in there and the offense as a unit looked more like a unit rather than just one guy trying to do everything. Maybe that could be a learning point for Golson that he doesn't have to do everything.
It will also be interesting to see what Golson decides to do. He clearly will not have the same role with the team next year. At the very least, he will have to split time. Can a two quarterback system work? Absolutely! It worked in the bowl game and Kelly made it work at Cincinnati. The better question is will Golson want any part of that?
Sharing time will affect his numbers and that cannot help his NFL prospects. He might want to transfer. Miami of Ohio could be an attractive place. Chuck Martin is there and Andrew Hendrix had a great year there even though the team did not. The next few weeks will be interesting.
Regardless of who is playing quarterback next season, I definitely feel a lot better now. All the injured and suspended players will return. That can only make the defense more deep. I can't wait for next season.
In closing, I just want to congratulate Tommy Rees on getting a job at Northwestern. I know he will be a great coach there.