So much national attention has gone to Notre Dame's defense. It is funny how when the season began, the perception of Notre Dame was that they had a great defensive front but nobody was sure of the rest of the team. Then when they opened by giving up 192 yards to Navy, the critics said that the secondary is a weakness to the defense. They ignored the fact that when you face Navy, you gear to stop the option. As the weeks passed and one opponent after another failed to capitalize on the supposed weak secondary, the perception changed.
Now it was that they were a great defense but the offense was not good enough. That was honestly a fair criticism as the offense did struggle early under the leadership of Freshman Everett Golson. Then when Tommy Rees would consistently come in and save the day, it only added to the doubters fuel.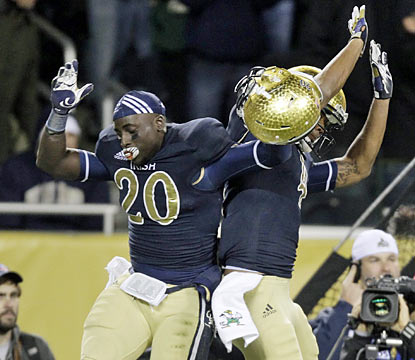 The solid running game was often overlooked. Most college football fans probably don't even know that the Fighting Irish had two runners over 700 yards in Theo Riddick (880) and Cierre Wood (740). Golson also pitched in with 305 yards and George Atkinson had 365 yards. The team had 22 rushing touchdowns altogether.
As the year progressed, so did Golson and his confidence. He finished with 2135 yards and 11 touchdowns his first year as a starter. While those numbers don't blow you away, his game by game stats show clear improvement as the year went on.
Golson's low point was his game against Michigan when he threw for just 38 yards and 2 interceptions before being replaced by Rees. Then a couple games later he was knocked out of the game against Stanford. At that point, Golson only had 968 yards passing for a very mediocre average of 161 per game. He also only had 4 touchdown passes at that point.
Golson missed the BYU game with a concussion only to hear fans talk about how Rees was better until Rees had a mediocre game with less than 200 yards passing and only 1 touchdown.
From that point starting at Oklahoma through USC, Golson threw for 1167 yards with an average of 233 and 7 touchdowns in those games. Watching the week to week growth of Golson was one of the more enjoyable aspects of the season.
Golson's primary weapon was record breaking tight end Tyler Eifert with 44 catches for 624 yards and 4 touchdowns. Junior receiver TJ Jones also emerged as a primary weapon finishing with 43 catches and 559 yards with 4 touchdowns. Veterans John Goodman and Robbie Toma may not have put up big numbers but it seemed as though all of their catches were in big spots.
The Fighting Irish went from being a great front to a great defense to a great team to #1.
While all the focus is on Notre Dame's defense, how well this offense plays is what really could make the difference.