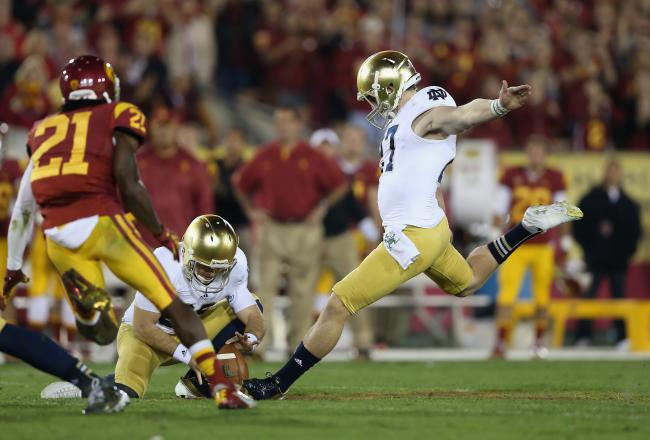 With the Title game getting closer and closer with every day, Irish fans think about the match up every day. Of course, a lot of the focus is the Notre Dame front against the Alabama line and running attack. The Irish offense led by Everett Golson also is focused on. One are that has really gone ignored is the Irish special teams.
Anybody who follows football regularly knows that in a big game, it is often a big play on special teams that makes the difference between winning and losing. Unfortunately, this is really the one area for Notre Dame that is cause for concern not only for the title game, but next season as well.
Let's start with sophomore kicker Kyle Brindza. Although his leg is powerful, his inconsistency has been a problem all year. The last game against USC was a career night for him as he went 5 for 6 including a 52 yarder to end the first half. He also nailed a 47 yarder against Michigan and a 46 yarder against Oklahoma. So why then is he a concern when he made all these big kicks?
It is because he is 23 for 31 on the year meaning that he missed eight kicks. What concerns me about the misses is that four of them came from inside 40 yards. He even missed an extra point against Pittsburgh which would have cost them the game had Golson not been able to convert a two point conversion on the next touchdown.
Here he have a kicker making the long kicks and missing the shorter ones. That is a concern. To his credit, he has made all of his kicks in overtime and with the game on the line. But still, I would rather have a guy who makes the shorter kicks and misses the longer ones any day. At least we know what to expect then. Hopefully, Brindza can fix this accuracy and consistency problem.
Another area of special teams that has been a concern has been the return game. As a freshman George Atkinson returned two kickoffs for touchdowns, but he had none his sophomore season. To be fair, when you have a defense as dominant as Notre Dame's you won't get too many opportunities to return kicks. Therefore, I am not all concerned about kickoff returns but punt returns have been a disaster.
Freshman Davonte' Neal has done absolutely nothing returning punts. His total yards for the year was 50 and his longest return was 11 yards against Navy. This is clearly an issue as the punt return can make a huge difference in field position. I am not sure if the problem is Neal or those who create the wall, but this has to be addressed not only for the big game but for the future as well.
The area of special teams that has been solid is the kick off and punt coverage. They have not allowed any big returns or any touchdowns all year. Ben Turk has done a nice job punting all year with a 40.6 average. However, he has not placed one inside the 20.
The bottom line is that special teams can be the difference in winning or losing. Historically, that has been especially true in games that have been between tow powerhouses. While neither the offense nor the defense are causes for concern, this is a huge concern for Notre Dame's National Championship chances.