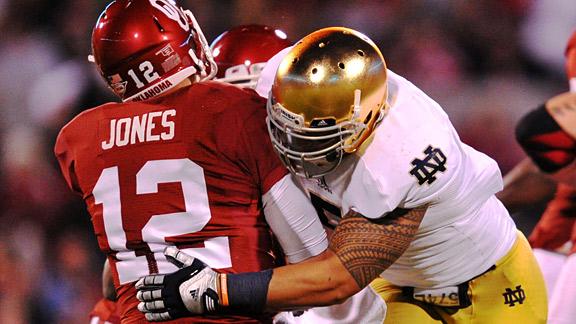 Nobody can deny it now. After holding one of the best offenses in the country to 13 points, Notre Dame is for real and in the conversation for a national title. When they were 7-0, many people still doubted the team they were. They hadn't really "played anybody" was the argument. The Big Ten is weak and Stanford is not as good as they used to be. They barely beat BYU.
After going into Norman and beating Oklahoma in a convincing fashion, all of that is out the window. What is most special about it is that many Notre Dame fans including myself had doubts that The Fighting Irish would come out on top. In fact, when Oklahoma tied it at 13 in the middle of the fourth quarter, I was saying, "Great job Notre Dame! You fought hard."
I thought Oklahoma would then take over and win. Little did I know that Everett Golson would hit Freshman Chris Brown on a beautiful 50 yard bomb. That would set up Golson to take it in to regain the lead with just four minutes to go.
Manti Te'o would make another big interception like he has done all year. That led to a field goal to seal the game. Theo Riddick added a late touchdown.
The way the game started, it didn't look like Notre Dame would once again dominate defensively. Oklahoma moved the ball right down the field on the first drive before a poor snap put them in 2nd and 19. They never recovered.
The next drive went down for a field goal. That didn't matter as Cierre Wood answered quickly with a 62 yard run.
For Notre Dame's defense to be able to hold this offense to 13 points is truly an accomplishment. However, the offense is also beginning to come along nicely as well. The combination of Riddick, Wood, and Golson rushed for a combined 215 rushing yards. Golson was 13 of 25 for 177 yards. Tommy Rees showed once again his value as he only completed one pass but it was a big one. It was an 11 yard strike to Tyler Eifert on third down that led to a field goal.
With four games left, Notre Dame is one of four teams still talking National title.