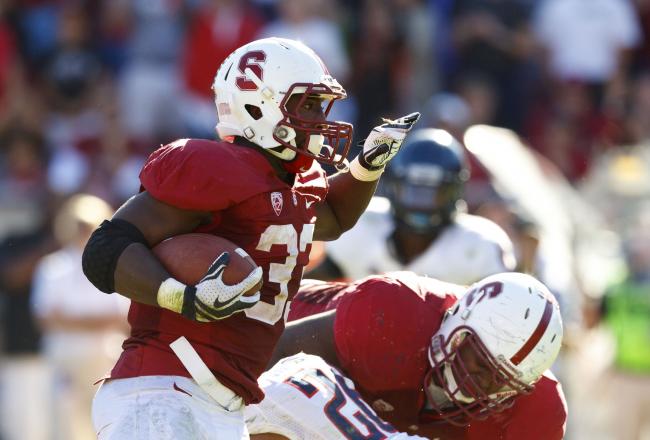 After the graduation of Andrew Luck, there was definite uncertainty of how good Stanford would be. Now coming into South Bend with a 4-1 record, there is definite uncertainty on how good the team is. This is a team that shocked the college football world with a win over USC. That was only to get shocked by Washington 12 days later.
Let's not forget that they also were unimpressive in a 20-17 win against San Jose State to open the year. It was thought that this team was a defensive team with a building offense under first year starting quarterback junior Josh Nunes. Through four games, he had thrown for just 425 yards with four touchdowns and four interceptions. The defense in the meantime had held every team under under 20 points.
That was until last Saturday when Nunes broke out throwing for 360 yards and five total touchdowns (two pass, three rush). Stanford scored 54 points in an overtime win. The defense more than doubled it's season average though in giving up 48 points.
This is what makes this Stanford team a little difficult to prepare for. Will they be the team that has the strong defense and good running game led by Stepfan Taylor who has 418 yards and three touchdowns? Or will they be the great offensive team that broke out last week?
One thing is for sure. They haven't seen a defense like Notre Dame yet. Nunes has struggled on the road so a trip to Notre Dame Stadium might be a little too big for him at this point. Also, that Arizona team had been giving up a lot of points in recent weeks.
Stanford's defense however could be a tough test for Everett Golson. Will this be the defense of the first four weeks or the defense of last week? How will they defend Notre Dame? Will they key on the great running game that went for over yards against Miami and make Golson beat them? Or will they set back and make him read the defense knowing he struggles more with that?
My gut instinct says they will attack the running game because that is what defensive coordinators do. However, Golson is very good when it breaks down and he just lets his ability take over as opposed to reading the defense.
Of all the opponents Notre Dame has faced this season, Stanford seems to be the hardest one to figure out so far. That scares me a little.