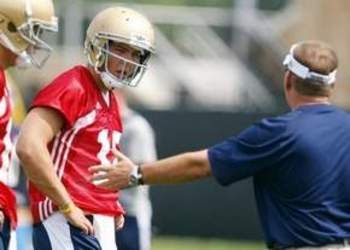 When Andrew Hendrix came to Notre Dame three years ago, he had visions of one day leading the team through the tunnel and on the field as the team's starting quarterback. Being that he is behind Everett Golson who is a freshman and Junior Tommy Rees, it is safe to say that it would take a string of unforeseen events for that to ever happen.
I am in no way calling for him to be the quarterback, but he is way too talented of an athlete to be standing on the sideline with a headset as the third string quarterback. I remember him pulling off a 90 yard run last season. I was never sold on him as a quarterback, but I certainly felt that he should be playing.
With Cierre Wood and Theo Riddick both being Seniors, there will be a spot at running back. George Atkinson can't carry the load by himself.
Robbie Toma and John Goodman are also seniors so there will be room for more receivers. However, do we really want to wait until next season to use him and have only two years.
With all the injuries the Irish have had in the secondary, I say try him as a defensive back. That is where he can make an impact right away. Lots of players who were quarterbacks in high school be safeties in college. That is because it is a position that also lines up the unit and reads the opposition to make a call.
Right now, Hendrix could play in nickel and dime situations. With the graduation of Zeke Motta, he can compete for the starting job next season.
I know that he has always been a quarterback but he is just too good of athlete to not find a role for. Defensive back would be something new for him but the coaches should have him practice. As long as he doesn't tackle like a girl, give him a shot.