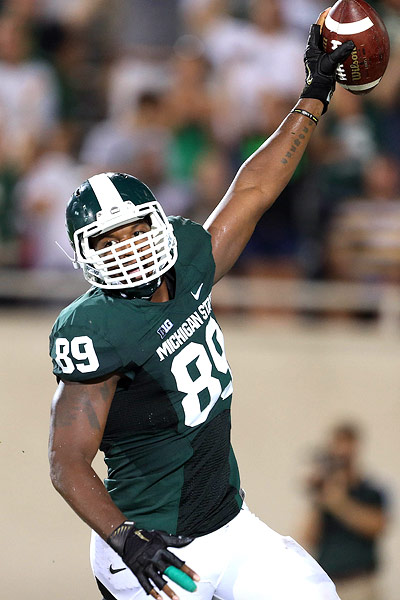 While Notre Dame's defense has had it's struggles this season, the offense for the most part has been impressive. But Tommy Rees and company could have their toughest challenge this week. That is because although Michigan State's offense has struggled, their defense has been dominant through three games. Not only have they only given up 4 touchdowns but they have also scored 4 on turnovers. Three of those returns came from Shilique Calhoun.
But before we start comparing this defense to last year's Irish defense, let's just think about if they are really that good. They have been dominant but against who. Western Michigan is a MAC team that is currently winless. South Florida is an AAC formerly Big East team but they also haven't won. On top of that, the Bulls got blown out to both FCS McNeese State and Florida Atlantic from Conference USA. Youngstown State is a pretty good team but it is against FCS competition.
So as dominant as they have been on defense, the Spartans have played nobody. Therefore, it is really hard to say how good the defense is or if they are overrated. I would say that they are probably about like Michigan's defense a couple weeks ago. They haven't faced an offense any where near as good as ours yet. I think Rees will tear them up with TJ Jones and Daviras Daniels if the Spartans play their typical over aggressive style.