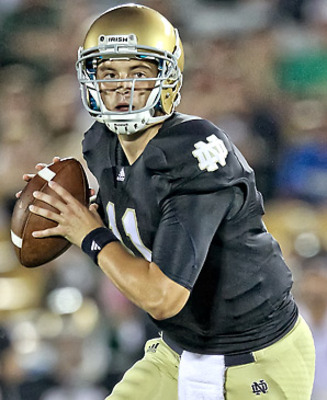 Tommy Rees haters have reached a new low. I see many of them still hating on the kid regardless of the fact that he has thrown for almost 700 yards and 5 touchdowns in two games. All they seem to focus on is the interception that led to a Michigan touchdown. They make it sound as though that was the difference in the game.
They seem to forget that a year ago Everett Golson did the same thing twice. The difference was that the defense rose up and turned them back. This year was different. All quarterbacks have bad interceptions sometimes. It is a matter of limiting them and having more good plays that outweigh them. Anybody who doesn't believe Rees has done that this year is just ignorant.
Rees is not the reason Michigan scored 41 points. The defense is accountable. I am tired of the nonsense I hear from Rees haters. He has so far been the team MVP. It is embarrassing to call them Notre Dame fans.