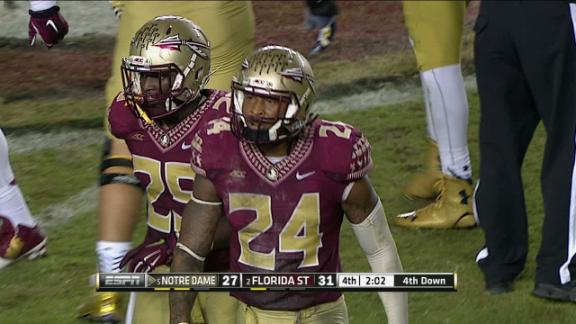 Going into this game, I really did not know what to expect. Notre Dame was 6-0, but I like so many was still not sure how good this team is. Their signature wins were Michigan and Stanford. Michigan is horrible and the jury is still out on Stanford. Then last week North Carolina gave the Irish a scare. However, I have a feeling that that win will look better in the upcoming weeks. But the point is that there was real uncertainty as to how Notre Dame would match up against the elite teams in the nation.
Well, that question was answered by the end of the first quarter. Not only was this game on the road against the defending national champions, but it was probably the most hostile environment the Irish have seen in a long time. Often when Notre Dame is on the road or at a neutral site, the Irish fans are just as loud if not louder than the opposition. That was clearly not the case tonight. Before the game was the loudest tomahawk chop I have ever heard. But the Irish came out and were unphased by it.
They attacked the Seminoles and really dominated the line on both sides early. Notre Dame actually had a 17-10 halftime lead. Then the second half was back and forth. Notre Dame kept taking the lead, but Florida State kept answering it. It was not until the 4th quarter when the Seminoles took the lead at 31-27.
Then Notre Dame appeared to have come back late for the win when a touchdown got called back for offensive pass interference. It was a controversial ending and you hate to see a game get decided by a flag. But if it is a penalty, it is a penalty. By rule it was the correct call.
Although Notre Dame came up short, a lot of positives can come out of this one. This is the premier program in the country right now and the Irish dominated the line of scrimmage for much of the game. That is a much needed confidence boost for the offensive line.
Everett Golson was able to throw for 313 yards and 3 touchdowns. He did have two more interceptions but one was on an attempt to win the game and he did not fumble. His best receivers were Corey Robinson who caught 8 for 99 yards and 2 touchdowns and Will Fuller who caught 8 for 79 yards and a touchdown.
Tarean Folston had another big day with 120 yards rushing. He has established himself has the primary runner.
The primary concern I would have is that the defense looked solid in the first half but really wore down in the second half. They could not stop the Seminoles in the second half.
But even with a loss, I have a much more certain feeling about this team going forward. Notre Dame's playoff hopes are alive and well. In fact, once it was apparent that this game was going down to the wire, I thought to myself that the final score is somewhat irrelevant because both teams will be in the playoffs if they win out.
The reason why I am so certain of that is because of how the schedule is set up. After a bye, the Irish have their third neutral site game against traditional rival Navy. That is kind of a tune up game for 4 really tough games to finish it up. They have two road PAC 12 road trips to Arizona State and USC. Northwestern really has been up and down in the Big 10 and Louisville is no slouch as their last ACC opponent. The good thing about it is that the Navy game is first which means no more trap games.
For Florida State, they do not have a team on that schedule who will challenge them with the possible exception of Louisville.
What also helps is the fact that Baylor lost and is likely out of the picture due to a weak non-conference schedule. That will make it tough for the Big 12 to be represented because all the teams could end up with multiple losses. In the SEC the two Alabama schools and two Mississippi schools still have to play each other and will knock each other out. In the Big 10, Michigan State and Ohio State will cancel each other out when they play. Oregon could possibly get in if they win out but they still have a brutal PAC 12 schedule ahead.
Bottom line is that Notre Dame will make the playoffs still as long as they win out. So I really have just two things to say to Florida State and their fans. 1) Congratulations and great game. 2) I want a rematch.