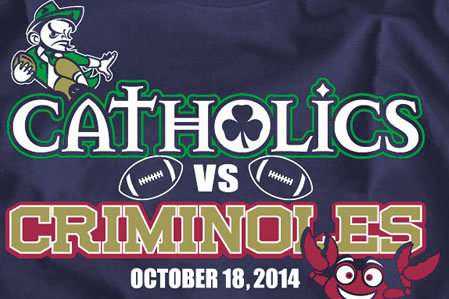 It is just a day away. The game we have been talking about since Notre Dame's schedule game out. Two teams who have played in the last two BCS Title Games. Both have quarterbacks who know nothing but winning. Neither team has lost a regular season game with their current quarterbacks. Both teams have hard hitting defenses. But both teams have had their problems with the offensive line.
Turnovers for both offenses have been a problem in recent weeks as well. Although both teams are 6-0, there is still questions about how good either team is because at this point, neither has really played a tough schedule. Neither program can be faulted for that though.
Notre Dame Scheduled annual Big Ten rivals Michigan and Purdue. It is not the Irish's fault those teams aren't up to par this year. Florida State cannot help who is in their conference. They were not that impressive in their opener against Oklahoma State. But Oklahoma State is a legit program and has not lost since. Their only other notable game was Clemson. In that game, Jameis Winston was suspended. The Tigers were in position to win but self destructed. Florida State knows how to win. The following week they had a let down against North Carolina State. They were down 24-7 after one quarter before they put together a huge rally in the second half.
Getting back to the Irish, they had a similar situation after the Stanford game when North Carolina got a big lead in minutes before the Irish got going. So neither team is really been that battle tested this season. It is hard to say how good Clemson, Oklahoma State, and Stanford are at this point. We shall see how as the season plays out and how they do in their conferences.
To this point, they have had one common opponent is Syracuse and the score was very similar in both cases. Notre Dame won 31-15 while Florida State was 38-20. That is almost equal.
This is really a hard one to predict because there is still a lot that needs to be found out about both teams. This is really Notre Dame's first true road game. They only had two neutral field games up to this. It is also their first game on grass. That is an advantage for the Seminoles. But where Notre Dame will have an edge is that they will have a bigger chip on their shoulder.
Time for talk is done. Let's get it on.
Go Irish!!!!!